JustGiving fundraising pages are not designed to be used to sell tickets, but charities have in the past used a fundraising page to do this.
If you want to create a fundraising page to sell tickets there are a few things you'll need to include on the page to ensure you're:
abiding by HM Revenue and Customs (HMRC) rules about Gift Aid
receiving the details that you need from your donors.
HMRC regulations say that if you're getting something in return for a donation, it's really a purchase and your charity can't reclaim Gift Aid on it. So when someone makes a donation to a page selling tickets it's important that they don't claim Gift Aid.
Find out more information about HMRC's Gift Aid regulations.
If you are setting up a raffle please ensure you familiarise yourself with the Gambling Commission's regulations around online fundraising.
Text donations must not be used in exchange for raffle tickets or competitions. Raffle pages must operate with online donations only. 
What should we do when we create our page?
If you need help creating a fundraising page, just head to our fundraiser's section. 
1. When you are setting up your page, be sure to tick the box to let us know you're asking for donations in return for something. This will turn the 'Gift Aid' option off for your donors.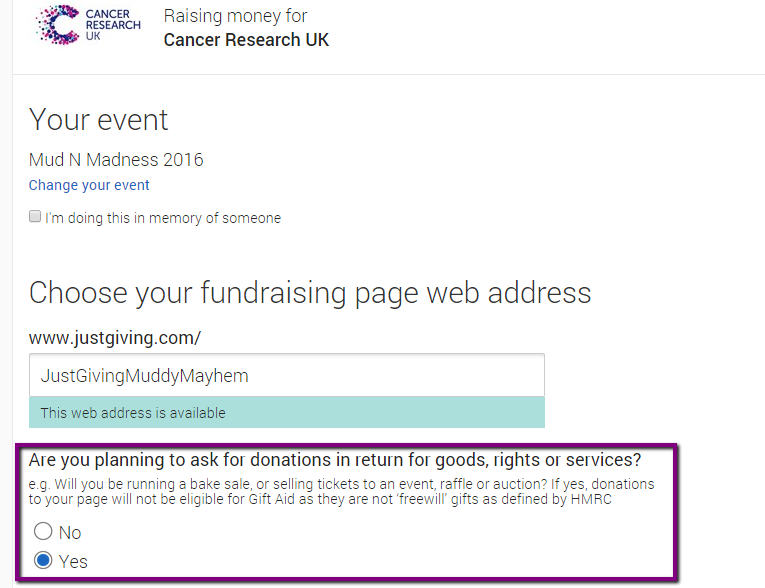 This box can only be ticked when setting up the Page and can't be done retrospectively. If you'd like to create a new Page ticking the box to turn off Gift Aid, drop us an email and we'll free up the Page URL for you to use again.
2. It's also worth encouraging people in the Story section of the page to give you their contact details so they can receive their ticket/prize. They can do this by:
ticking the box to agree to be contacted by the charity
emailing their contact details to you once they've made a donation.
3. If your page still has the Gift Aid option, your donors can always remove Gift Aid from their donation by clicking the link to Review before donating button, then editing their donation to remove the Gift Aid.
4. If someone does claim Gift Aid on their donation by mistake and it's within 24 hours, we can remove the Gift Aid for you. Simply give us a call as soon as possible on 0345 078 3063. If it's longer than 24 hours we will need to refund the donation so they can make it again. Find out more about how we refund donations.
5. For each fundraising page you create, you can personalise the thank-you message a donor receives with their donation receipt. You may want to ask donors in this message to bring their donation receipt with them to the event to gain entry. Alternatively, you could ask them to email the charity with their donation reference number and their contact details so a ticket can be sent to them.