Congratulations!
Now that your account on JustGiving has been set up you have full access to a range of features to help increase the amount of donations you receive
How to log in
Go to the log in page for charities/nonprofits here and login with your email and password.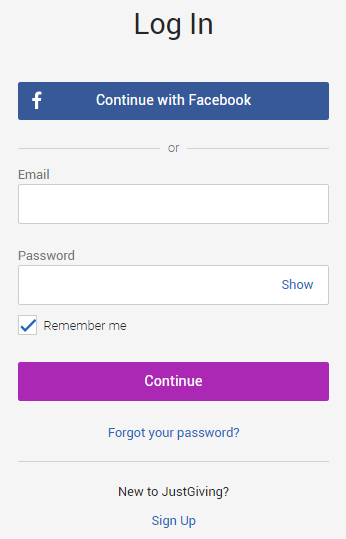 Once logged in
Have a look through the six tabs that you will be using to get the most out of your account on JustGiving. They are:
- Home
- Reports
- Events & Widgets
- Campaigns
- Branding
- Settings
For a detailed look at each tab see below:
Home
This is the first tab you'll get to when you log in to your account and it links to the main information you need.
Quick search
You can use this to search for any Fundraisers who have created Fundraising pages for your organization by name, or any donations that have been made to your organization by donation reference.
Finance Reports
Here are some useful links through to the reports you'll want to run. These can also be found under the Reports tab as well. Please note that Insights are available in the UK only.
Latest insights - UK Only
These show some statistics at a glance that might be useful for you. For more information click on the 'See more insights' button. Remember, these insights are only updated monthly so for the most accurate and up to date information see your Reports.
Reports
Here you can find all the information you need to know about donations made to your organization and fundraising pages that have been created.
There are three types of reports you can download from your JustGiving charity account:
Custom Codes
You can add your own custom codes to your events, campaigns, or any of your supporters' fundraising and payment reports, helping you manage your JustGiving data.
Insights - UK Only
Your Insights dashboard helps you track your reach and measure your impact on JustGiving. On the 5th of each month, it will update to tell you the number of people you have reached, the number of actions they have been inspired to take and the money they have raised for your cause.
Widgets & Events
Here are the most exciting tools to help you grow the number of donations you receive.
Events Tool - this allows you to add or promote events on JustGiving from marathons to bake sales and more that people can create fundraising pages for.
Widgets - a great way to create Donate buttons or leaderboards of the most successful fundraisers for your organization
Donation Prompts - a tool for helping donors understand the impact of their donations as well as a suggestion of what amount to donate
Campaigns
Campaign pages are like your own team page on JustGiving for a specific event or cause that you are raising for. They can be used to group together donations and fundraising pages.
For more on how to optimise the donations you receive through campaign see our guide to Campaign page creation here. 
Branding 
The best place to go to edit the look and feel of your organisation on JustGiving. Here you can change the logo, impact statement and description of your page. 
Thank-you messages
For every donation made to your organization, there is a thank-you message automatically sent to the donor so you don't have to try and keep on top of it. Use this section to change what's said in this message.
Fundraising page colours and settings
These two links will allow you to set the default for any fundraising pages so that they all have your organization's style when they're set up. Current organizations on JustGiving have pushed their branding and their message successfully through these default settings. 
Settings 
Here you can manage your charity's account information. You can also change the password or details for logging in to your account here and add new users to the charity account as well.