What are QR Codes?
QR codes (aka quick response codes) are images that, when scanned on a phone or tablet, take a person to a specific website page. This means that your charity can use a QR code to quickly direct supporters to your charity's profile page on JustGiving to donate. These would be great to use in fundraising packs, direct mail, posters and collection buckets.
Most modern phone can scan QR codes using their cameras. Once you have the app you can simply hold the camera in front of a code for two to three seconds and your phone will ask to re-direct you online.
How to get your Charity's QR code
Charity QR codes are free for charities registered on JustGiving. To get yours, simply visit your Charity Profile on JustGiving and add "/qrcode" to the end of the web address.
For example, the web address for Save the Children's charity profile on JustGiving is www.justgiving.com/savethechildren/ and to get their QR code they would simply need to change the web address to www.justgiving.com/savethechildren/qrcode.
The page looks like this: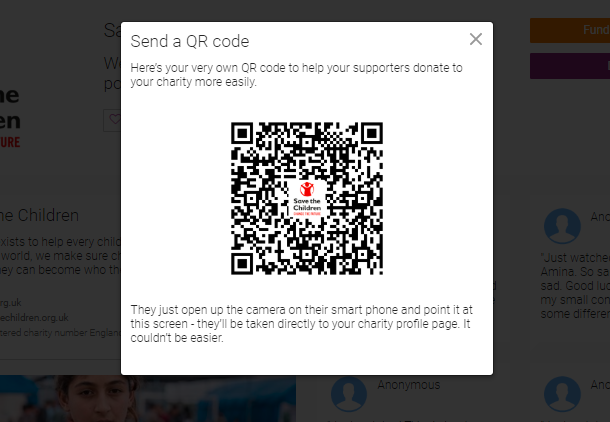 You can then save your code as an image to your computer or device ready to share where you like.
How to use your Giving Checkout QR code
When you create your Giving Checkout link, you have the option of downloading a handy QR code that directs supporters straight to your online donation form. Visit this help article for more information.