Offline donations can be added to your Campaign Page by your charity or to a Fundraising Page by the page owner.
As an organisation, you can add, and then update, offline donations to a Campaign as a total sum.
To do this, follow these steps:
Login to your JustGiving account
Go to the Campaigns tab and click on View existing Campaigns
Choose the Campaign that you want and click on the Actions tab in the top right corner of the Campaign listing 
Select Update offline donations
5. Add or update the offline donation total
Clicking Show Donation Summary on the Campaign card will show you the amounts and percentages raised through direct donations, through fundraisers' pages, and through offline donations that your organization has added to your campaign.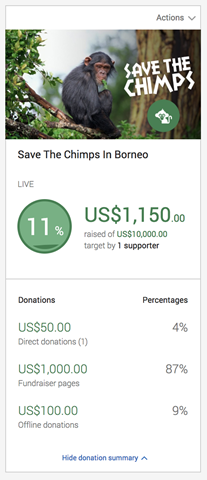 Your offline donation total will be included in the total on your Campaign Page.
It will also show in the Donation summary at the bottom of your Campaign Page.
If your supporters have raised funds offline, they also have the option to input offline donations directly from their Fundraising Page.
Once the fundraiser has logged into their account they need to follow these steps to add the amount raised offline to their page total:
Next to Your fundraising on the left menu select See all
Select Edit in the top right corner
Select Edit next to Raised offline on the right side
Type in the total amount raised offline
Click Save
If a fundraiser inputs an offline donation on his or her fundraising page, it will be included in the total on his or her fundraising page and roll up into the total on your Campaign Page. Offline donations input on an individual's fundraising page will be reflected in the summary under Fundraiser Donations and Donations via Fundraisers. 
There is currently no option to turn off the function that allows fundraisers to add their own donations. This may be a future enhancement.